Valley View, Kentucky

Valley View is a Madison county community along KY 169 and Tates Creek south of the Kentucky River about 12 miles north of Richmond. The community grew around John Craig's ferry, which began operating in 1785. The town was laid out in 1891 and was for many years a center of lumber production, using logs brought down the river from eastern Kentucky. The name Valley View is thought to come from the view from the top of the hill on the Fayette county side of the river. Valley View was once served by the Richmond, Irvine, Nicholasville, and Beattyville (Riney-B) Railroad. The Valley View post office operated from 1891 until 1957.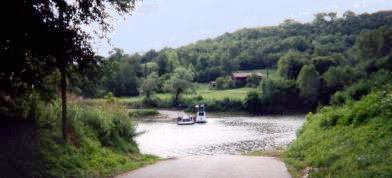 The Valley View ferry, seen from the north side of the river.
The Valley View ferry, the only Kentucky river crossing for many miles, is the oldest business in Kentucky, having been granted a franchise by the Virginia legislature in 1785. It is now owned by Fayette, Jessamine, and Madison counties and operated by the Valley View Ferry Authority.
---
SEARCH THE KENTUCKY ATLAS & GAZETTEER
---
© 2016 David C. Elbon