Burnside, Kentucky

Burnside is a Pulaski county city located on Lake Cumberland at the mouth of the Big South Fork about three miles south of Somerset. The name comes from Camp Burnside, a Civil War encampment of General Ambrose Burnside. It was established near the confluence of the Cumberland River and its South Fork and was initially known as Point Isabel or the Point. In 1950 the town was moved to its current location to make way for Lake Cumberland.
Burnside was incorporated in 1890.
A Point Isabel post office opened in 1877 and closed in 1878. The Burnside post office opened in 1880.
The population in 2020 was 700.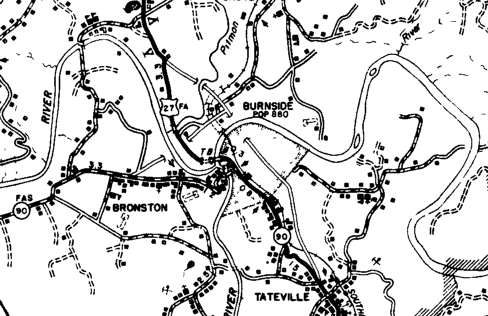 Map of Burnside circa 1950, before the impoundment of Lake Cumberland.
---
SEARCH THE KENTUCKY ATLAS & GAZETTEER
---
© 2022 David C. Elbon