Eskippathiki

Eskippathiki or Eskippakithiki ("blue licks place," for the nearby salt licks along Lulbegrud Creek), was a Shawnee town in what became eastern Clark county. It was also known as Little Pict Town to traders and may have been known to the Iroquois as Kentucky ("meadow lands") from which came the name of the Kentucky River, which provided access to the town, and from that the name of the state.
Probably the only Native American town in Kentucky in historic times, it was primarily along Upper Howard Creek and was occupied from about 1718 until about 1754. A French census of 1736 counted 200 Shawnee men in what may have been Eskippathiki. The abandonment of the town was a part of a general movement of settlements out of Kentucky because of disputes between the Shawnee, Iroquois, and other tribes over control of the area. This was in turn largely caused by the pressure of incoming European settlers and conflict between the English and French in the region.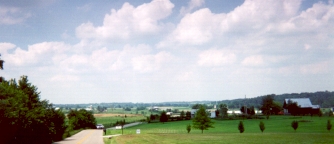 A view along KY 974 north of Goffs Corner. (Photo 1999)
The plain between Upper Howard Creek and Lulbegrud Creek, covering about 3,500 acres, has been known through the years as Old Indian Fields, Indian Old Corn Fields, or simply Indian Fields.
European settlement began in the area around 1775. A station on the Lexington and Eastern Railroad operated at Indian Fields from the late nineteenth century into the twentieth.
The Indian Fields post office operated from 1878 until 1973.
---
SEARCH THE KENTUCKY ATLAS & GAZETTEER
---
© 2023 David C. Elbon