Lowes, Kentucky

Lowes is a Graves county community twelve miles northwest of Mayfield. The town, originally known as Lowes Crossroads, was named for Levi Lowe, who settled in the area in 1837. The Lowes post office opened in 1872. The population in 2010 was 98.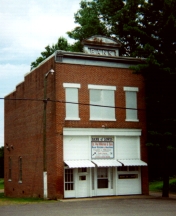 The Bank of Lowes is one of the oldest in the state (photo 1998).
Alben W. Barkley (1877-1956), who served in the United States House, Senate, and as Vice President, was born just southwest of Lowes at Wheel.
---
SEARCH THE KENTUCKY ATLAS & GAZETTEER
---
© 2023 David C. Elbon