Murray, Kentucky

Murray, the seat of Calloway county, is located near the center of the county on Clarks River. It was settled before 1825 and was known variously as Williston, Pooltown, and Pleasant Hill before being incorporated as Murray in 1844 to honor John L. Murray. It replaced Wadesboro as the county seat in 1843.
The Williston post office opened in 1830 and was renamed Murray in 1843.
The population in 2020 was 17,118.
Murray is the home of Murray State University.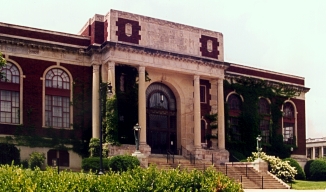 The current Calloway County Court House in Murray was built in 1913. Murray State University began as the Murray Normal School in 1922. The Pogue Library, shown here, was built in 1930.
MORE INFORMATION
---
SEARCH THE KENTUCKY ATLAS & GAZETTEER
---
© 2023 David C. Elbon