Smithland, Kentucky

Smithland, the seat of Livingston county, is located on the Ohio River at the mouth of the Cumberland River. An earlier settlement called Smithland was established below the current site in 1780, but by 1800 had moved to the current location and was chartered in 1805. It was named to honor James Smith, an early explorer of the area. The seat of Livingston county was moved several times; in 1841 it was moved to Smithland from Salem.
Smithland was incorporated in 1843.
The Smithland post office opened in 1802.
The population in 2020 was 243.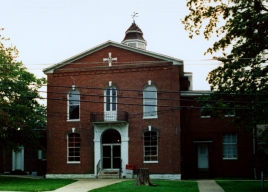 The old Livingston county courthouse in Smithland was built in 1845. The new courthouse is a few blocks away. The Gower House, an inn on the Ohio River in Smithland, is said to have been built about 1780, but was probably built a few decades later.
The Smithland Locks and Dam were built by the United States Army Corps of Engineers and went into service in 1979. The Smithland Locks and Dam replaced Locks and Dam 50 (near Weston) and 51 (downstream from Carrsville.)
MORE INFORMATION
---
SEARCH THE KENTUCKY ATLAS & GAZETTEER
---
© 2023 David C. Elbon