Campbellsville, Kentucky

Campbellsville, the seat of Taylor county, is located near the center of the county at the junction of KY 55 and KY 70, just north of Green River Lake State Park. It was settled beginning around 1808 and was established in 1817. The name is from Andrew Campbell, who owned the site.
Campbellsville was incorporated in 1851.
The Campbellsville post office opened in 1817.
The population in 2020 was 11,374.
Campbellsville is the home of Campbellsville University.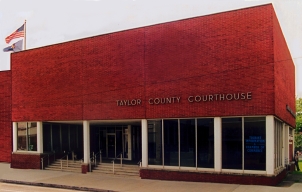 The Taylor County Courthouse in Campbellsville.
MORE INFORMATION
---
SEARCH THE KENTUCKY ATLAS & GAZETTEER
---
© 2023 David C. Elbon