Covington, Kentucky

Covington, one of the seats of Kenton county, is located at the confluence of the Ohio and Licking rivers. The area was known as The Point during the eighteenth century and a settlement there may have been known as Kennedy's Ferry. In 1815 the town of Covington was formed and named for General Leonard Wales Covington. The other seat of Kenton county is Independence.
Covington was incorporated in 1834.
The Covington post office opened in 1815.
The population of Covington in 2010 was 40,640.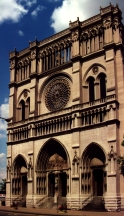 This bridge between Covington and Cincinnati was designed by John Roebling and opened in 1867. At the time it was the longest suspension bridge in the world. (Roebling designed a railroad bridge to cross the Kentucky River at High Bridge, but it wasn't completed.) This is a view of Cincinnati from the Covington end of the bridge in 1997. The Roman Catholic Saint Mary Cathedral Basilica of the Assumption in Covington was completed in 1910.
MORE INFORMATION
---
SEARCH THE KENTUCKY ATLAS & GAZETTEER
---
© 2023 David C. Elbon