Gethsemani, Kentucky

Gethsemani, also spelled Gethsemane, is in Nelson county, about ten miles south of Bardstown. The site of a school established in 1818 by the Sisters of Loretto, it became the home of the Abbey of Gethsemani in 1848. The Abbey is part of the Order of the Cistercians of the Strict Observance, also known as the Trappists. The Trappist post office operated from 1901 to 1983.
South of the Abbey, at the railroad, was Gethsemane Station and a small community. A Gethsemane Abbey post office opened in 1866, the name was later shortened to just Gethsemane, and it closed in 1969.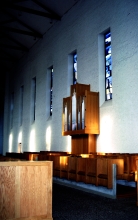 Photos by N. Kogneato (Andy Alexander), 1996. Used by permission.
---
SEARCH THE KENTUCKY ATLAS & GAZETTEER
---
© 2018 David C. Elbon