Russellville, Kentucky

Russellville, the seat of Logan county, was established circa 1790 by William Cook. It was known as Cook's Station and Logan Court House before being named Russellville in 1798 for General William Russell, a prominent local landowner.
Russellville was incorporated in 1840.
The Russellville post office opened in 1801.
The population in 2020 was 7,106.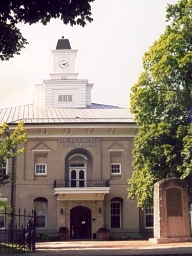 The Logan County Courthouse in Russellville (photo 1999).
MORE INFORMATION
---
SEARCH THE KENTUCKY ATLAS & GAZETTEER
---
© 2023 David C. Elbon