Wickliffe, Kentucky

Wickliffe, the seat of Ballard county, is located on the Mississippi River in the southwest of the county. It was founded in 1880 at the site of an earlier settlement and named for Colonel Charles A. Wickliffe, legislator, Confederate officer, and nephew of Kentucky's fifteenth governor. Wickliffe replaced Blandville, the previous county seat, in 1882.
Wickliffe was incorporated in 1882.
The Wickliffe post office opened in 1879 after moving from its previous location at nearby Fort Jefferson.
The population in 2020 was 655.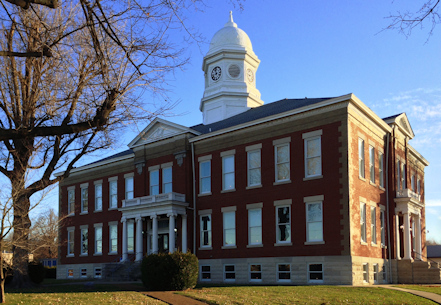 The Ballard County Courthouse in Wickliffe
The Wickliffe Mounds State Historic Site is on the north side of town.


The Mississippi River just below the confluence with the Ohio at Wickliffe. At the confluence the Ohio is about a third larger than the Mississippi.
MORE INFORMATION
---
SEARCH THE KENTUCKY ATLAS & GAZETTEER
---
© 2023 David C. Elbon